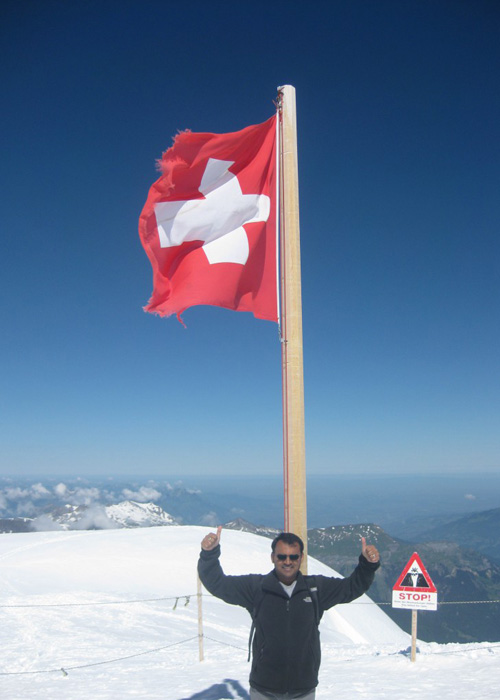 Health Tips brought to you by U.S. HealthWorks Medical Group. Our experienced medical experts provide information here that we hope will broaden your healthcare knowledge.
As temperatures drop throughout the U.S., it's important that people are informed about how to handle the cold, especially when it comes to exercise. Today we talk to Dr. A.K. Misra, medical director for U.S. HealthWorks in South San Francisco. Dr. Misra is double board certified in Sports Medicine and Internal Medicine.
Q: Can you give your professional opinion about how best to exercise in the cold as we approach the winter months?
A: The obvious and most concerning danger is extreme cold exposure that can result in death, which happens due to an arrhythmia (irregular heart rhythm) induced by crossing a threshold too low for the heart muscle to tolerate. An "Osborne wave" or "J wave" can be seen on an EKG in severe hypothermia. With these dangers, it is crucial to know the estimated cold that a person will experience when engaging in exercise (or otherwise) and how to dress and prepare accordingly.
Q: What are some danger signs if exposed to extreme cold during exercise?
A: Frostbite and blisters are common with extreme cold exposure. Additionally, one can get dehydrated as a result of increased urination from something called "cold diuresis," when the core temperature decreases 3.6 degrees Fahrenheit.
While not a specific issue as it relates to cold exposure, in the context of skiing and snowboarding, one can sustain what is termed a "corneal flash burn" or "UV keratitis" if not wearing correct UV protective eye wear. So, it's important not to forget eye wear while participating in snow-oriented sports.
Q: What are some of the preventive measures one can take in advance of cold exposure, and what are some of the basic management tips if one has blisters and frostbite?
A: Being physically fit helps a person acclimatize better to cold exposure and lessens the potential life-threatening effects of the cold. After being exposed to severe cold as it relates to rewarming, it is best to go to an ER to ensure proper re-warming steps are taken. Those steps are generally to start with a warm bath set at a temperature range of 104-108 degrees Fahrenheit. In contrast to managing someone overheating where it is best to cool rapidly, it's important to warm gradually to avoid a potentially lethal heart rhythm and to avoid scalding the skin.
If a person has frostbite, it is important to undertake rewarming only if there is no risk of re-freezing, as it could result in the loss of an extremity (such as a finger, hand, toe or foot). At all times, one should always see a doctor if they have blisters or frostbite because management of these is delicate and requires expertise to care for them properly. For example, if a person has a blister, a health professional can aspirate if it has clear fluid in it. If the blisters have blood in them, generally it is standard practice not to puncture them.
Q: What forms of exercise are best/safest for cold temperatures?
A: I do not believe there is a best or safest exercise as it relates to cold weather specifically; however, this set of broad stroke recommendations for exercising in the cold is helpful. This is quite a useful guide from the Sports Medicine division at Mayo Clinic for those interested in learning more on safe practices to exercising in the cold.
Lastly, here is some useful information about winter exercise and nutrition, courtesy of the U.S. Olympic Committee:
Do you feel hungrier in winter than in summer?
A drop in body temperature stimulates the appetite. If you become chilled during winter exercise you'll likely find yourself searching for food.
Eating generates heat and helps warm your body. About 30-60 minutes after you eat, the body generates about 10% more heat than when you have an empty stomach.
What is best to eat to warm up?
Consume warm carbohydrates - hot cocoa, mulled cider, steaming soup, oatmeal or pasta. The warm food helps contribute to rapid recovery.
What's the biggest nutritional mistake athletes make in winter?
Failing to drink enough fluids - cold blunts the thirst mechanism
Stay hydrated to perform best in the cold!