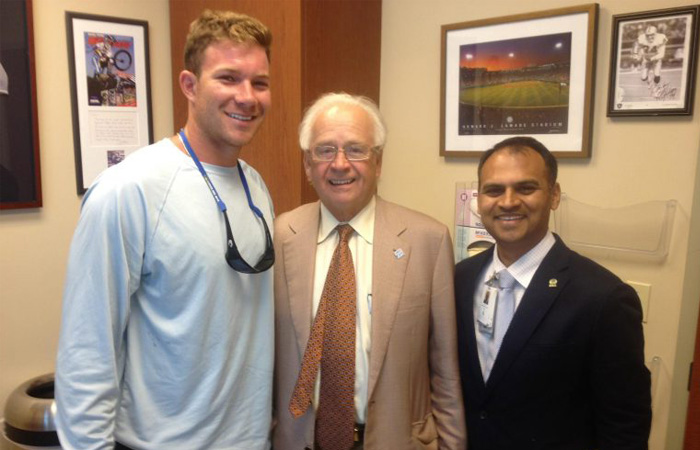 Today we speak with Dr. A.K. Misra, medical director for U.S. HealthWorks in South San Francisco, about knee injuries in the workplace. Dr. Misra is double-board certified in Sports Medicine and Internal Medicine.
Q: With the return of football season comes knee injuries, and sometimes other very serious injuries such as torn ACLs and MCLs. But what are the most common knee injuries for the average worker who is not getting tackled on the job? Do many of these knee injuries require surgery?
A: Approximately 70% to 80% of musculo-skeletal injuries (knee or otherwise) do not require surgery and/or are not surgical by their nature. The scope of injury is broad with employee injuries, but repetitive/overuse injuries and acute traumatic injuries are the most common. Since most of these types of injuries do not require surgical intervention, U.S. HealthWorks has on-site acute rehabilitation departments at each of our medical centers to help patients treat and rehabilitate these injuries.
A sound rehab department is also an essential component to recover from injuries that require surgery. Many of our patients do their post-procedural (after surgery) rehab on-site at our facilities. Please refer to this prior blog post that highlights rehab and physical therapy in more detail.
Dr. James Andrews – a world class Orthopedic Sports surgeon under whose direction I did my Sports Medicine fellowship – states that his role in the recovery is only about 20 to 30%, whereas the rehab department's role is as much as 80% of the outcome. The best practice of musculo-skeletal medicine requires following the principle we follow at U.S. HealthWorks: That acute rehab is the cornerstone for the most rapid recovery of musculo-skeletal injuries, whether the injury is surgical in nature or not.
Q: Are there knee injuries that we hear about professional athletes, especially NFL players, suffering that the average person could live with and NOT have surgery? For example, could you have a meniscus or tendon tear and still do day-to-day activities without pain or worry?
A: Interestingly, many of the injuries professional athletes incur parallel those of the injured worker. It is for this reason I term the population we care for the "industrial athlete." Of the most common operative problems that come about when we care for this population are intra-articular pathologies such as meniscus and ACL tears. The mechanism of injury can be much the same as a professional athlete: traumatic fall, twisting, pivoting, etc., which is why the practice of Sports Medicine parallels Occupational Medicine so closely.
Whether or not a person can tolerate an injury like this and avoid surgery is highly individualized and based on the medical facts, physical demands of the job and any concurrent health matters of the person (i.e. baseline health). To that end, the concept of "modified duty" in the practice of Occupational Medicine exists. This defines the functional status of an injured worker (understanding an injured worker's job and then defining the range of activity that won't worsen the injury, yet is within which the worker can still be productive at work) and is applied in instances wherein surgery is not urgent, time-sensitive or required at all.
This is a key driver to keeping the economy at its top productivity level. The data demonstrates that patients who work on modified work status return to full duty faster than those who are taken completely out of work (only done in very rare instances). In contrast to the professional athlete that is either fully cleared to play/work in their prior role or not; no such "modified duty" is applicable.
Q: If you suffer a more minor knee injury – such as a strain – how do you know, especially if the pain subsides?
A: It is best to get a professional diagnosis even if you think a problem is minor; not having an accurate clinical diagnosis early on can lead to a worse injury. Always seek a quality professional medical opinion for all concerns (including musculo-skeletal) before making assumptions that could lead to improper diagnosis and treatment down the line.
Here is an example of how to manage an ankle sprain from a prior blog post, which offers some tips on what to do up front before a person is able to attain a professional medical opinion.
Q: What are the best ways to immediately treat a knee injury before you can get medical attention?
A: There is no "one size fits all" approach to answer this, as the first most important thing to do is to get as accurate a diagnosis as possible. I refer back to one more blog post here that speaks to some of the first steps to early, time-sensitive injury management.
Ultimately, regardless of how severe or mild you may think an injury is, the best approach is to obtain a professional medical examination and diagnosis, rather than trying to continue working and remaining active through a potentially serious injury.
Image courtesy of freedigitalphotos.net